Radiology facilities are often seen simply as a series of rooms full of high tech equipment – plus a waiting area to await your imaging appointment. While the equipment is a vital component of an imaging facility, people and processes also play an important role and should be considered equally during the design process.
In this blog, we look at some of the main areas of an imaging facility, and discuss the key considerations involved in the design of a radiology clinic layout.
Reception and Waiting Area
As soon as your patients walk through the door, it's important to expose them to as little stress as possible.  After all, they may be feeling some level of anxiety about the imaging procedure.
Good quality – and plentiful – seating is also important to ensure your patients and loved ones have a comfortable wait.
---
Elite Fitout Case Study: XRadiology
The reception desk at XRadiology is located directly opposite the front door, with clearly marked signage.  The waiting area features a large number and variety of seating options, allowing family groups to sit together, along with seating in smaller alcoves for patients wanting a quieter area to wait.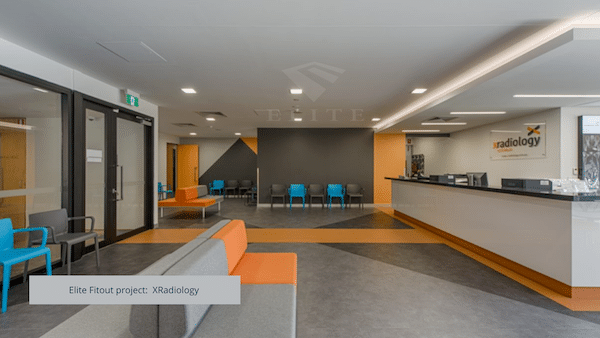 Patient Amenities
Private and spacious change rooms are essential.  If space permits, one or two large change rooms are beneficial for disabled or younger patients who require assistance with changing.  Lockers or a secure area is worth considering for patients to store patient belongings during their appointment.
Additional bathroom facilities that are conveniently located nearby your ultrasound rooms are vital, especially for patients that need to drink large amounts of water prior to their scan.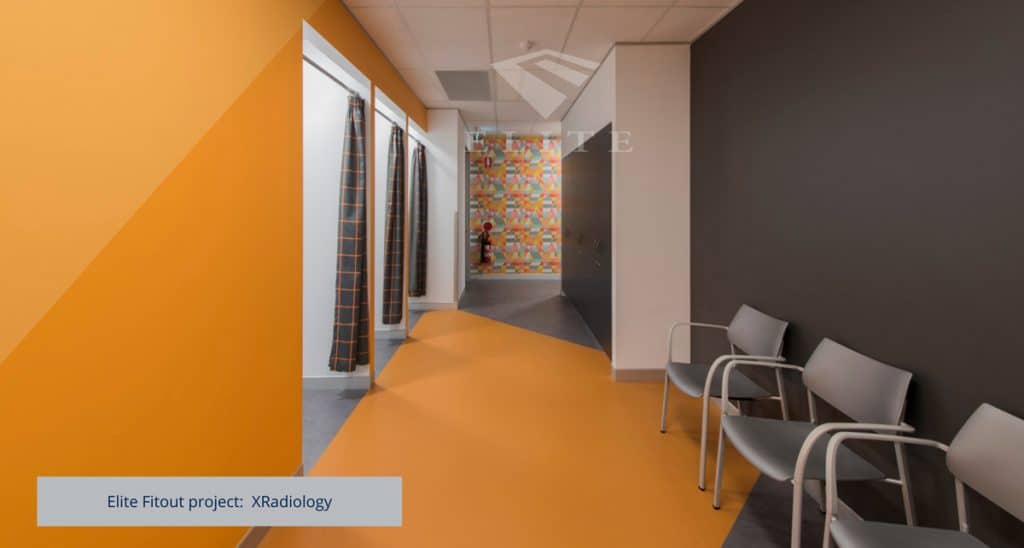 Patient Preparation & Recovery Areas
Preparation and recovery bays should be located close to your MRI to avoid unnecessary back-tracking by patients and staff.  If possible, this area should also be placed in a quieter section of your facility to provide privacy.
---
Elite Fitout Case Study: John Flynn Hospital – South Coast Radiology Facility
At this hospital-based imaging facility, the patient preparation, holding and recovery area is in the back corner of the facility, and adjacent to the Uptake rooms. (Uptake rooms are where radioactive IV is administered).  This area provides a quiet and private space for patients to be monitored and recover from their procedure.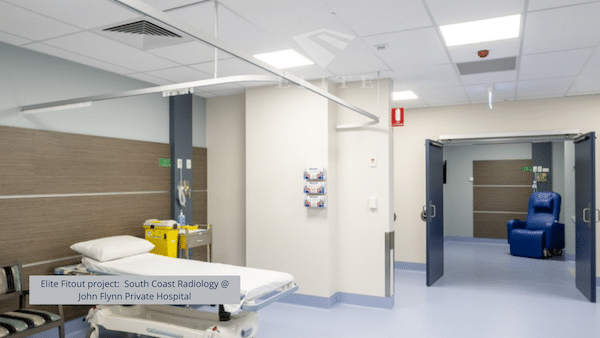 X-Ray, Fluoroscopic & CT Scan Rooms
Due to the emission of ionising radiation by X-Rays, Fluoroscopies and CT Scans, these rooms require additional consideration when it comes to planning and construction.  Where possible, these rooms should be located away from the reception and general traffic areas.
Careful planning is required to ensure smooth clinical workflow of the radiation rooms.
Appropriate radiation shielding is applied to ensure the radiation dose to persons external to the radiation rooms are below the applicable regulatory limit to ensure public safety.  If required, shielding to the floor and ceiling are applied, this will protect persons above and below the radiation room.
It is recommended that accredited medical physicist consultants be engaged to provide accurate shielding design and reports as well as the applicable certification for the premises.
Control Areas
Whether they are alcoves within a room, or separate dedicated control rooms – they require appropriate shielding, good visibility (such as the inclusions of large windows) and have enough space for multiple staff members.
---
Elite Fitout Case Study: John Flynn Hospital – South Coast Radiology Facility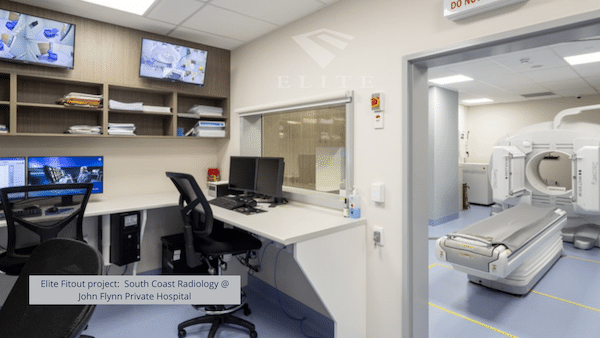 South Coast Radiology's facility at John Flynn Hospital has a shared control room that is located centrally between two imaging rooms.  This allows staff members to have easy access to patients in the imaging rooms as well as clear visibility through large windows. It also enables efficient utilisation of space in the facility. They also have multiple screens to view all areas of the imaging and procedure rooms as well as different aspects of the imaging equipment setup without having to enter the rooms while procedures are being undertaken.
---
Sieverts was pleased to work with Elite Fitout to share important information about radiology with our readers.
Sieverts Radiation Protection Consultancy provides expert advice and radiation protection solutions to businesses across Australia ensuring their compliance with Australian Radiation Safety Standards.